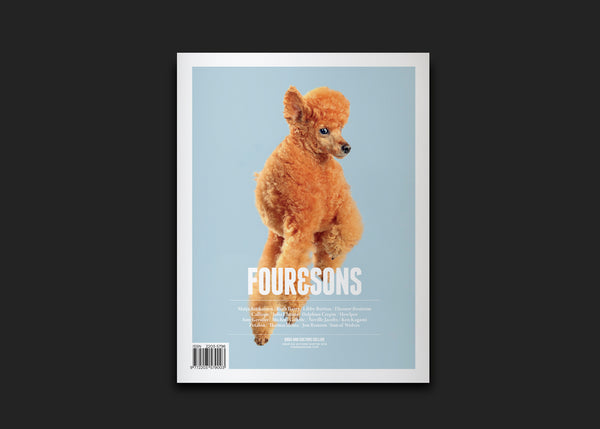 This product is currently sold out.
Description
Four&Sons is both a print and online publication where dogs and culture collide. Chronicling the work of interesting people and their interesting dogs, Four&Sons is a guided tour through the worlds of art, photography, music, literature—even maths—as inspired by man's best friend.  
Content
In this issue we learn about anthropomorphism, dog-headed succulents, and four-legged shop assistants. We meet a handsome bull terrier celeb hailing from New York City (did you guess already…?) and chat to creatives about gentle giants, doting dachshunds, and a wolf with friendly eyes. We laugh out loud thanks to Ken Kagami's brilliant and nonsensical mash-ups of Snoopy and Charlie Brown, admire Michael Gillette's new breeds that meld pups and pop culture, and fall hard for Julia Christe's dogs in mid-air. We wonder which type of dog owner we are, ponder the poignancy of living in the doghouse, and meet a mongrel fascinated by his own poop. We read about northern Italy's truffle-hunting hounds, and then travel to Amsterdam—a city whose progressive attitude extends to dogs. We marvel at the beauty of torn balls thanks to Delphine Crepin, and discover what lies in the shadows courtesy of Thomas Roma. All this, and more, inside the covers.
Featuring
Maija Astikainen, Ruth Barry, Libby Borton, Eleonor Boström, Calliope, Julia Christe, Delphine Crepin, Howlpot, Amy Gerstler, Michael Gillette, Neville Jacobs, Ken Kagami, Petalon, Thomas Roma, Jon Ronson and Sun of Wolves.
Additional information
136 pages, printed full colour. 
275 × 215 mm.
Softcover
Published in Melbourne. Printed in Barcelona.