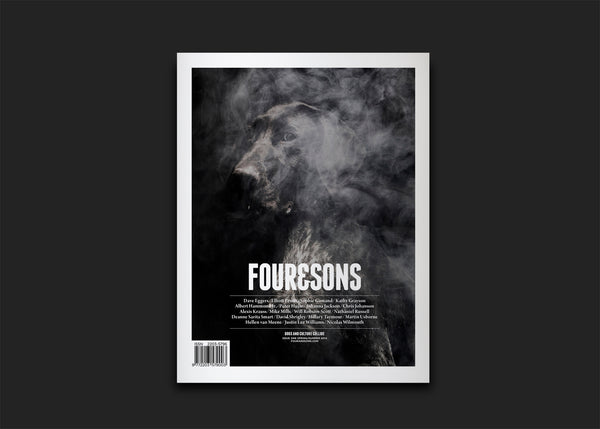 This product is currently sold out.
Description
Four&Sons is both a print and online publication where dogs and culture collide. Chronicling the work of interesting people and their interesting dogs, Four&Sons is a guided tour through the worlds of art, photography, music, literature—even maths—as inspired by man's best friend.  
Content
In this issue, we pay homage to iconic photographer Elliott Erwitt, whose waggish black and whites of such figures as Marilyn Monroe and Fidel Castro are rivaled only by hundreds more of dogs. We explore artists whose work is inspired by dogs—Guggenheim Fellow Mark Ruwedel's wistful pictures of abandoned doghouses in the desert, Sony Photography Award winner Sophie Gamand's disarming portraits of sopping-wet dogs—and, conversely, those whose dogs inspire them. For Chris Johanson and Johanna Jackson, their affenpinscher, Raisin, has witnessed the creative couple's meteoric rise from San Francisco street artists to contemporary art icons. Sleigh Bells' raven-haired, tattoo-sleeved frontwoman Alexis Krauss' bull terrier Rizla keeps her company on tour and even barked a cameo on the band's record, Bitter Rivals.  There are tales about dogs real (Nipper, the HMV dog) and imagined (Dave Eggers' star-crossed mutt). And we've dug up an obscure collection by Peter Hujar—he of the infamous "Candy Darling on her Deathbed"—starring animals and nudes. All this, and more, inside the covers.
Featuring
Dave Eggers, Elliott Erwitt, Sophie Gamand, Kathy Grayson, Albert Hammond Jr., Peter Hujar, Johanna Jackson, Chris Johanson, Alexis Krauss, Mike Mills, Will Robson-Scott, Nathaniel Russell, Deanne Sarita Smart, David Shrigley, Hillary Taymour, Martin Usborne, Hellen van Meene, Justin Lee Williams, Nicolas Wilmouth.
Additional information
136 pages, printed full colour. 
275 × 215 mm.
Softcover
Published in Melbourne. Printed in Barcelona.