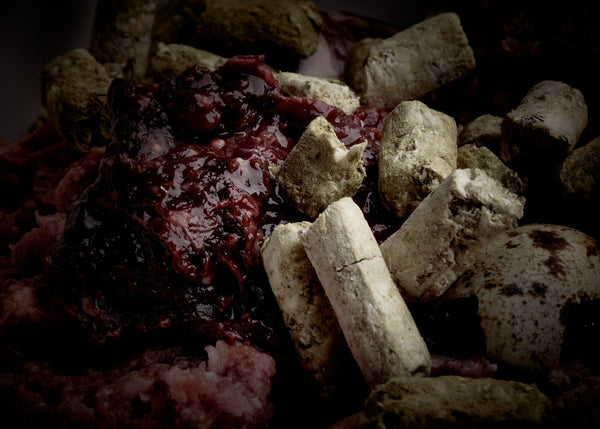 This product is currently sold out.
Description
Beneficial for animals recovering from illness or transitioning to a raw food diet, helps to reduce inflammation and gently supports digestive function. 
Key benefits
Supports immune health, reduces inflammation and bad breath, restores digestive system after diarrhoea, vomiting or a course of antibiotics. 

Suitable for
Dogs and cats of all ages. Fussy eaters, joint, skin and coat health.
You can access our Raw Feed Calculator here. 
Texture
Soft and chewy.
Ingredients
Fresh Meat & Meat by products (Beef, Chicken), Beef Bone Broth, Fresh Vegetables (Carrot, Celery), Flour (Rice, Soy), Berries (Blueberries, Strawberries and Raspberries), Vegetable Oil, Seeds (Sesame, Fennel), Apple Cider Vinegar, Fresh Parsley, Salt, Mineral Salts, Dextrose, Guar Gum, Yeast Extract, Antioxidant, Flavour, Spice Extract

Quantity
1kg.
Order and delivery
A $60 minimum order is required for courier deliveries. Delivery to all inner Melbourne Metropolitan areas is $19 per delivery (excluding CBD which is $25.00), Outer Metropolitan areas are $25 per delivery, Outer fringe suburbs $30 per delivery. 
Additional information
Keep in fridge until ready to serve as an entire meal. It can also be added to meals with raw food. 
It is essential to closely monitor body condition to maintain healthy growth. Always ensure fresh filtered water is made available.
Product images are for representation only. Actual sizes available may differ from those shown.
For animal use only
 


Not for human consumption
Product of Australia
DOWNLOAD FACT SHEET